Southwark College opened its doors to the public with its renowned atrium transformed into a stage for the Young Vic's performance 'Of The Cut'.
As part of a production celebrating 25 years of the Young Vic's creative engagement department, Taking Part, Southwark College was taken over for the performance. Of The Cut, A Taking Part production from Young Vic and TEA films, fuses film, stage, sound, imagery and storytelling together through the lens of magical realism. It provides insight into the many lives lived on and around The Cut and explores what the next 25 years has in store for the vibrant community.
The performance started in The Maria (the Young Vic's studio space) followed by a promenade around the local area, including Southwark College and St Andrews, Waterloo. With indoor and outdoor performances, the story takes the audience through a route across The Cut and shines a light on the voices and stories of Southwark and Lambeth's community members. The scene set at Southwark College is of a local housing estate, where we see a community and their everyday life, until an interaction with magic makes the story far from every day.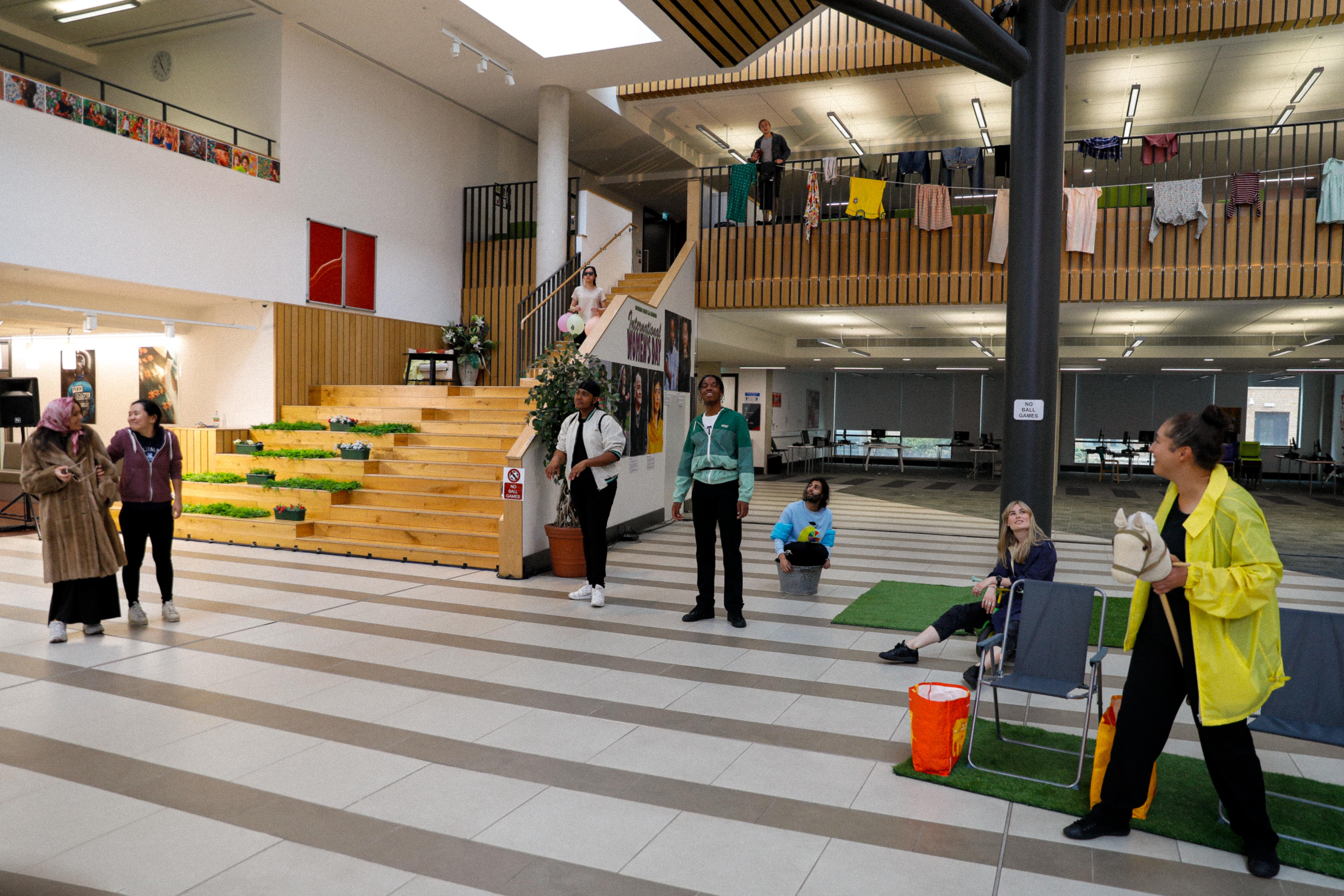 In recent years, Taking Part has partnered with the College to deliver the Pathway to Work Programme for Supported Learning students, which is designed for students to gain more independence, improve knowledge and get the guidance and encouragement they need to move into work successfully.
Through the partnership with Southwark College, the Learning strand of Taking Part, the Young Vic worked closely with Carol Dickson, lecturer and lead for the supported internship programme at Southwark College. As part of the course, Young Vic Taking Part artists ran dance and movement-based workshops with students to support them in developing skills in body language, building the confidence needed for acquiring internships and ultimately paid work and career opportunities.
Shereen Jasmin Phillips, Director of Young Vic Taking Part, said: "I am incredibly proud to present our 25th birthday season of Taking Part work, for, with and by the local community of Lambeth and Southwark. I am thrilled we were able to continue our partnership with our neighbours Southwark College who featured in our promenade production Of The Cut, which boasted a community ensemble cast aged 16-86, including local students from Southwark College.
"Taking Part is staunchly committed to continuing joyous and thought-provoking work through our local communities over the next 25 years and beyond. This valued partnership with Southwark College allows us to interact with students in the community and provide them with opportunities and encouragement to help further their personal development."
Carol Dickson, Teacher at Southwark College, and lead for the Supported Learning Internship programme, said: "Taking Part has provided Supported Learning students with essential skills that are needed to enter the world of work. Our partnership with the Young Vic is a wonderful example of the relationships Southwark College has with local employers to provide exciting opportunities to our students.
"We are proud to be joining the Young Vic as they celebrate 25 years of community engagement and continue to develop links within our community which support our students and make significant connections with potential employers."
Two students from the College, Jay Dawes and Chantel Davis, were offered internships within the Young Vic. Jay worked on building the seating plan for James Graham's award-winning new play Best of Enemies and was placed within the Front of House department where he is now currently part of the ushering team. Chantel was placed in Costume and made mic holders for the critically acclaimed production of Rodgers & Hammerstein's 'Oklahoma!'.
Both students were invited to recruitment workshops for Of The Cut and participated in devising and creating workshops at the start of the project. They then focused on ushering and their upcoming apprenticeships. Chantel performed in the show itself and features in the film.
Chantel Davies, Student at Southwark College, said of the experience: "Being involved with Of The Cut was wonderful for my confidence, everyone who performed did a good job and I can't wait to be involved in the next one at the College."
Of The Cut is A Taking Part production from Young Vic and TEA films written by Yasmin Joseph and the Company and directed by Philip J Morris. It was created with community members aged between 16 to 86 years old and led by a team of multi-disciplinary creatives.
Meet the cast of the show here.
Taking Part, the Young Vic's creative engagement department, delivers an ambitious programme each year, collaborating with the UK's leading theatre artists to create work for and with our local community. Taking Part work with thousands of participants each year, helping them to develop their creative skills, build meaningful relationships and connections, and tell compelling stories about the world we live in.  For more information about Taking Part, Of The Cut and its 25th anniversary visit youngvic.org/taking-part/taking-part-25
TEA films were one of the first digital companies to produce video content which sat alongside theatrical productions and marketing campaigns. Now they create tailor-made digital packages for entire seasons of work for the biggest theatre and live performance companies in the UK. Working with Matthew Bourne's New Adventures, Frantic Assembly, The Royal Court, Punchdrunk, Shakespeare's Globe Theatre, Donmar Warehouse, Secret Cinema, The Young Vic, and a host of other theatre companies and organisations in creating filmed versions and adaptations of shows. For more information about visit teafilms.com
Through strategic partnerships with a variety of employers, students at Southwark College can raise their employment prospects by boosting their qualifications and transferable skills and benefit from guest talks, workshops, and visits to relevant organisations. To find out more about our partnerships visit southwark.ac.uk/employers.
For more information on Supported Learning courses, visit southwark.ac.uk/supported-learning.