Southwark College held its annual Student Awards last week to recognise and celebrate the perseverance, hard work and dedication of our students who have demonstrated exceptional behaviour, effort and values during their course.
Students and staff enjoyed a celebratory food and drinks reception, after which, Annette Cast, Principal of Southwark College and Kim Caplin, Chair of Governors presented them with awards and certificates for their achievements throughout the academic year 2021 – 2022.
Creative Media Production & Technology student, Morteza Echresh received a special commemorative award presented by Janet Holness in memory of beloved staff member Paula Holness as recognition for his resilience and positive attitude when facing difficult challenges since coming to the UK, achieving his qualifications, and pursuing his dream of going to university and having a successful career.
The awards ceremony was a true celebration of the effort put in by students over the course of the year as well as their resilience and determination. It was also an opportunity to thank tutors, family and friends for the support they provided to help students along their studying journeys. Students and staff also enjoyed dance and music performances from their peers.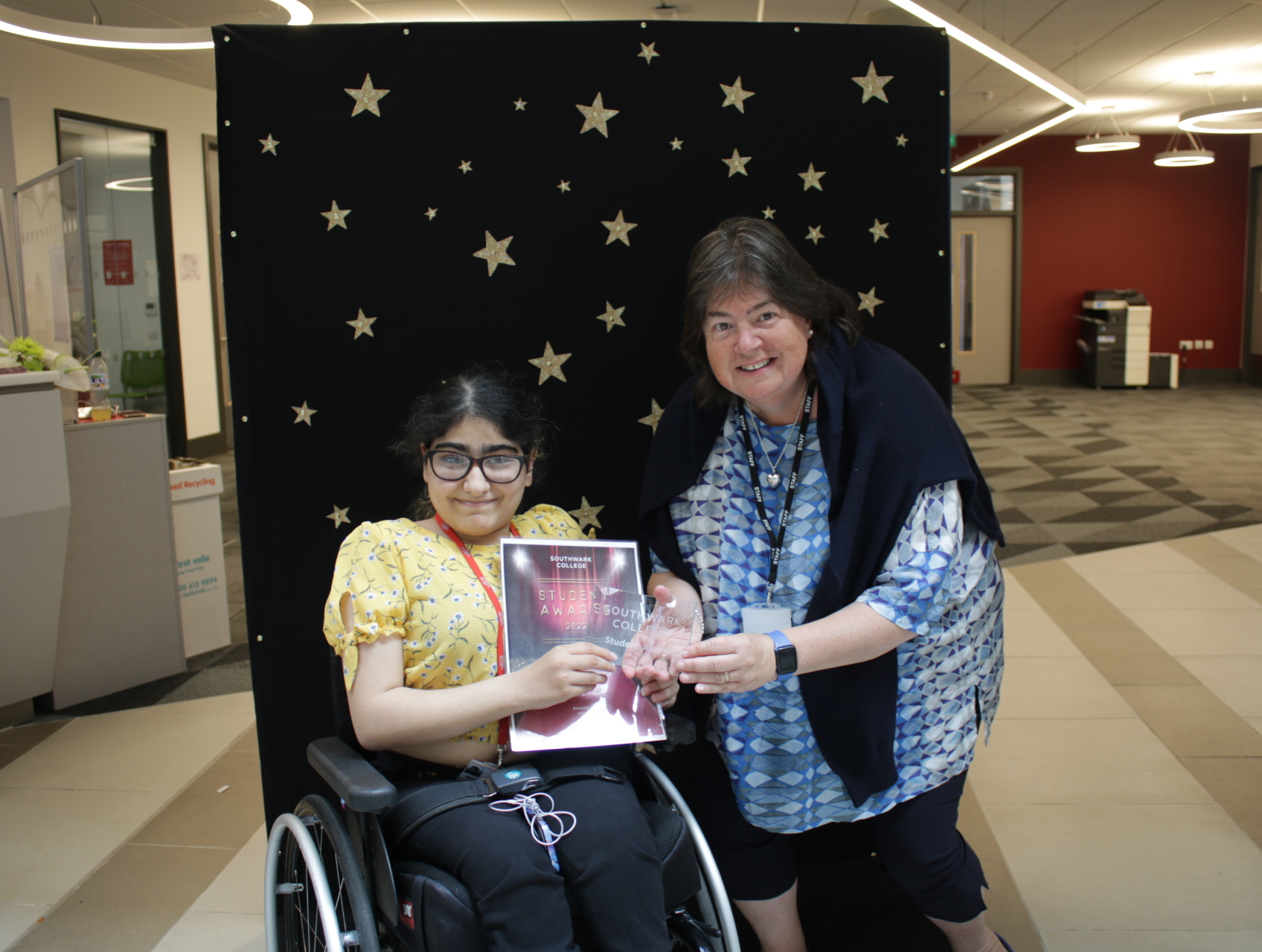 The winners of the Student Awards 2022 are:
Suhayb Munir

Eniola Otitoloju

Angel Enahoro

Tessa Obeng

Iker Vargas De Los Santos

Kevin Stevenson

Melody Akbarzadeh

Trish Upton

Leroy Annoh-Sarpong

Vilma Parkes

Zara Panton

Keenan Morris

Maria Akumune

Georgia Russell

Mary Ogundairo

Milclei Bizalo Martins

Darija Musatova

Jasmin Kaur Rattan

Edward Nash

Simona Messam

Elina Niedrite

Ibtisam Ali

Jack Chapman

Jeni-Marie Pittuck

Nhi Nguyen

Vandana Lawale

Morteza Echresh
The event was organised by the Student Services team. To find out more about the support and enrichment activities available to students at Southwark College, visit southwark.ac.uk/studentsupport