Governors, staff and local partners came together for a very special event on Monday 10 June: the official launch of Southwark College.
The launch was celebrated with an evening drinks reception attended by Councillor Peter John OBE, Leader of Southwark Council , who unveiled a plaque to mark the occasion. Speaking at the event, Cllr John said that he wanted Southwark College to become "the best college in the best borough in the best city in the world", and was delighted that the College is working so hard to ensure that it meets the needs of its local community.
The evening also included speeches by Southwark College Principal Annette Cast, Peter Lauener (Chair of NCG, one of the UK's largest and most successful college groups, which merged with the College in 2017) and Chris Payne (Acting Chief Executive of NCG).
Annette Cast emphasised the key role Southwark College has always played in its local community and the great strides it has made to become ranked number three among London colleges today*.
"We have great plans for the future," she said. "Our partnership with the local authority is of paramount importance to us because we are committed to providing a college that supports its residents to be ready for the ever-changing job market and the amazing opportunities that London offers."
She added: "I have many priorities, but a key one is external partnerships – only by consulting with employers, stakeholders, Higher Education Institutions and peers can we innovate, improve, grow and be financially successful."
During the evening, talented Level 2 Music students Rashidah Binns and William King entertained guests with some excellent cover versions and an original piece written by Rashidah.
*Department of Education National Achievement Rate Tables 2019.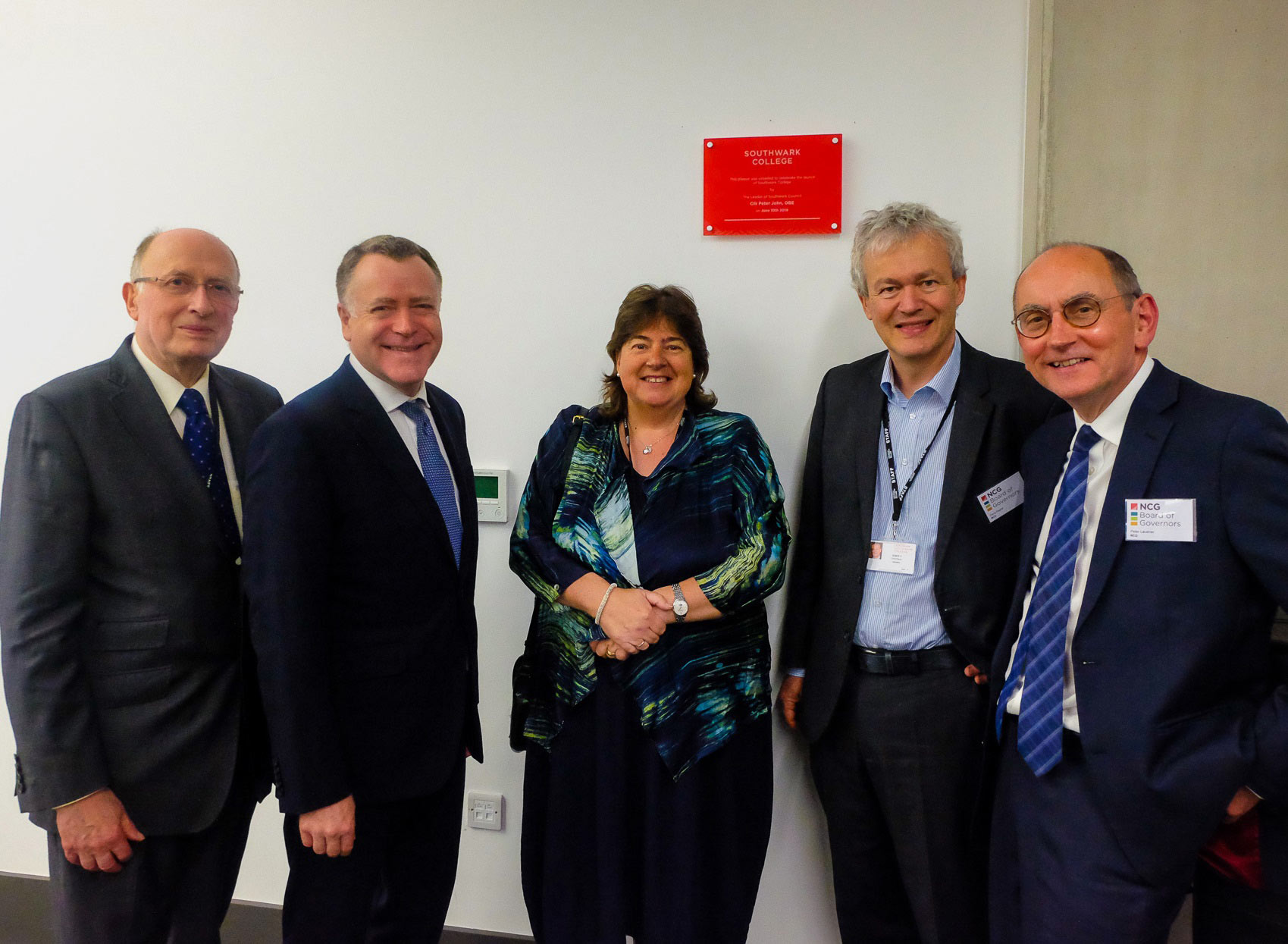 L-R John Litchfield (Chair of Governors/Board), Cllr Peter John, OBE, Leader of Southwark Council, Annette Cast (Principal), Chris Payne, Acting CEO, NCG and Peter Lauener, Chair, NCG