BUSINESS STUDENTS RAISE £200 WITH CHARITY BAKE SALE!
Learners on our BTEC Business Level 3 Extended Diploma showed off their selling, marketing, and organisational skills when they took part in the Macmillan World's Biggest Coffee Morning on 25 September 2019. The team of students worked tirelessly to plan, organise and run the coffee morning, which took place in the Atrium and succeeded in raising £200 for Macmillan – a charity which supports people with cancer.
As well as getting staff, friends and family to donate mouth-watering home baked treats that even Mary Berry would have been proud of, the Business students were meticulous in their organisation of the event, putting into practice the business theories that they have learnt in their 'Managing a Business Event' unit. This included publicising the event in advance through a poster campaign, liaising with Estate staff, and convincing other students and staff to donate cakes!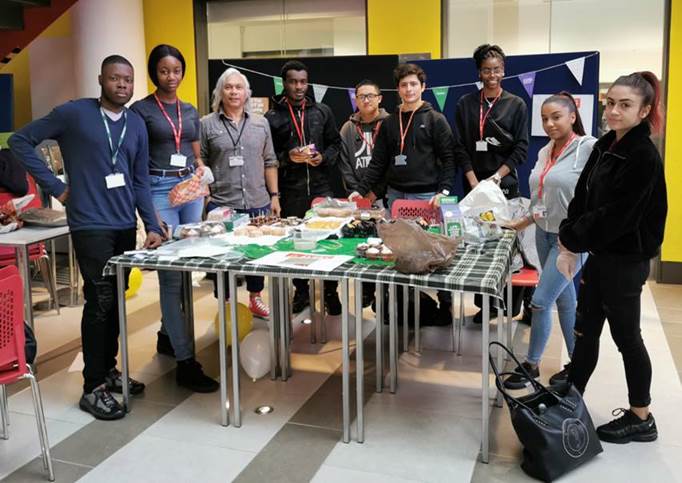 Course Lecturer Rahman Abdullah said: "We are very proud of our students, who really put their learning into action to stage this event. The money they have raised is going to a great cause and we'd like to thank all students and staff for their generous donations on the day."
One satisfied customer, Tessa Limb, Improvement Practitioner, added: "I've always had a weakness for cake, and this week I was lucky enough to come across the homemade cake sale organised by Business students for the Macmillan Trust. While the cakes were extremely delicious, what made it extra special was the professionalism and enthusiasm of the students involved.   They had independently set up a beautifully decorated stall and were pulling together to serve a long que of satisfied customers, their smiles and courteous manners making it a pleasure to be involved."