Get ready for your future
Are you considering a career in the world of Science? Southwark College offers a range of innovative A-Level and vocational programmes to help you access career opportunities in this increasingly important sector.
Our comprehensive Science courses are available for 16-18-year-olds and adults and cover a variety of topics, including Biology, Chemistry, Engineering, Radiography and Health Care, which have been designed to equip you with a diverse skill set and knowledge bank which can set you up for further study or an exciting career in a range of sectors, including healthcare, mobile communications, pharmaceuticals and energy.
The College works closely with external partners such as Guy's and St Thomas' NHS Foundation Trust to provide students with the chance to access work experience opportunities, hear from industry experts, boost their employability skills and grow their professional network.
Students choosing science courses at Southwark College have attained consistently high achievement rates for a number of years, and this year the A-Level Biology, Chemistry and Maths and Applied Science programme saw many students achieve excellent grades.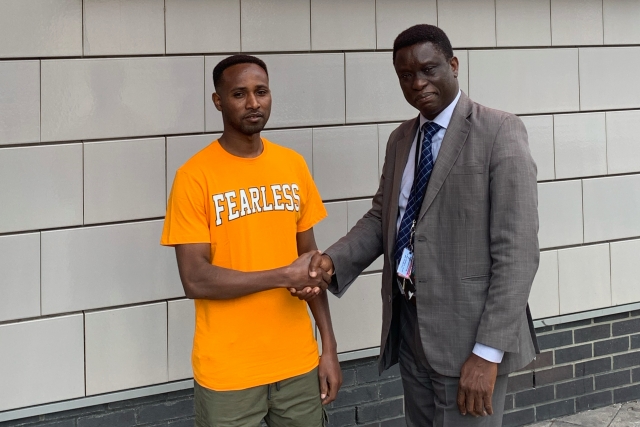 Idris Abdella achieved AAA* for his A-Levels in Biology, Mathematics and Chemistry, he said: "I'm thrilled with my results and excited to start applying for Medicine courses at Russel Group Universities. My time at Southwark College has expanded my knowledge and helped me build confidence in myself to achieve my goals. My teachers have fully supported me throughout my journey and I look forward to taking the lessons I learnt here into higher education."
Christina Smith achieved AAA* for her A-Levels in Biology, Chemistry and Maths at Southwark College and has been accepted to Kings College London to study Medicine in September. Christina said: "I'm really pleased with my results and can't wait to go to King's next month. Throughout this year my teachers have gone above and beyond to help me, and I couldn't have achieved this result without their support."
Maimuna De Freitas has also secured a place at university today, having collected a Triple Distinction* (D*D*D*) in Applied Science. Maimuna said: "I'm very happy with my grades and was so excited when I saw that I had been accepted at the University of Bristol to study Physiology. All the hours of studying that I put into my course has definitively paid off and Southwark College has definitely helped me realise my potential."
Read more about this year's results day success here.
Our modern building located in SE1 offers well-equipped facilities, high-tech labs and industry experienced tutors, as well as learning resources and student support, all in the heart of a vibrant community in SE1.
We are enrolling now for courses starting this month. Get ready for your career in science by browsing our courses at southwark.ac.uk/science and visiting our campus to secure your place.
Beat the queues. Book your enrolment appointment at southwark.ac.uk/enrolment/bookings.