The College will communicate with all applicants, students and apprentices via their Southwark College email or chosen email. All public announcements, such as site closure will also be communicated via this website. Please do not rely on social media or local news for information.
Thank you for your continued patience in these unprecedented and challenging times.
Update
We are looking forward to welcoming new and returning students to Southwark College in September and we are currently planning to deliver a normal timetable wherever possible and await further guidance around any potential restrictions.
Covid-19 Variant
Staff and students who live in identified areas in London are being asked to be extra cautious to stop the Covid-19 variant in its tracks. Under this new guidance all staff and students who live in the identified area should work from home and get a test at an NHS test site.
To view the full list of identified areas please visit the government website here: https://www.gov.uk/guidance/surge-testing-for-new-coronavirus-covid-19-variants
Reporting a positive Covid-19 test result
The College has introduced a centralised reporting process for staff and students who wish to report positive tests and/or that they have been told to self-isolate by NHS Test & Trace.
If you are a member of staff or a student you should report your result to This email address is being protected from spambots. You need JavaScript enabled to view it. which is monitored every day (Monday to Sunday). This will help us make sure that students and staff are contacted in a timely manner should they need to self-isolate.
Safeguarding
If you need any support or have any further questions about learning remotely, please speak to your Tutor in the first instance.
If you have any concerns about your safety or that of others, contact a Safeguarding Officer on This email address is being protected from spambots. You need JavaScript enabled to view it..
Applications and Enrolment
Applications remain open online for all courses with admissions staff processing them using our online systems as normal. Further information on applying for a course can be found at www.southwark.ac.uk/apply.
The College will also continue to process enrolment appointments. Please visit www.southwark.ac.uk/enrolment to find out what you will need to bring and additional health and safety arrangements on campus.
If you have any questions about an existing application or are not sure what to study and need further information, advice or guidance then please contact us.
16-19 Tuition Fund 2021-22
Southwark College has received funding to support catch-up tuition to small groups of students who have been disrupted by the pandemic. Students will be offered a range of support which you can find in the 16-19 Tuition Fund Statement.
IELTS tests
Following government guidance we are now open for IELTS tests in Southwark College. Visit our IELTS pages to find out more about our preparation courses or to book a test.
On campus
All staff, students and visitors to Southwark College buildings will be asked to:
Maintain social distancing and general principles of personal hygiene
Keep to limits on the number of people in rooms and lifts
Follow signage/guidance and not move furniture from the places in which it has been set out
Wear a face covering in situations where this is required to unless exempt. You can read the full guidance here.
---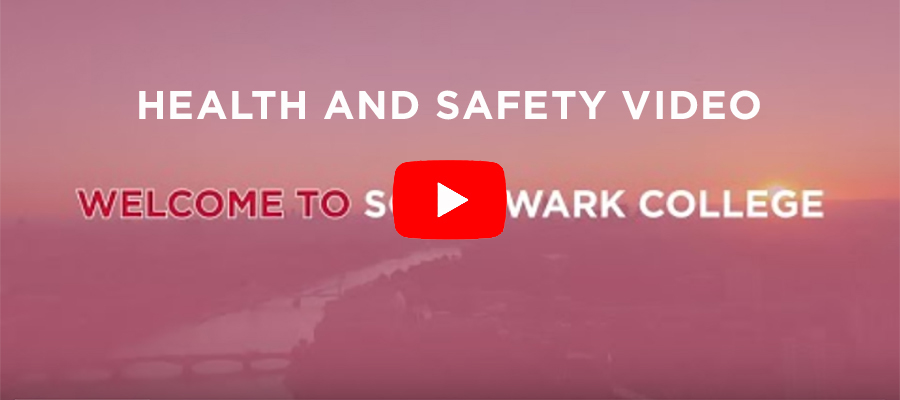 Further Information
The safety and wellbeing of our students, apprentices and staff is at the forefront of any decision we take. We realise that we may need to adapt if the government and Public Health England advice changes and we will be putting plans in place to do this if necessary. We will review this regularly and will only remain open if:
All Government guidance can be met, in full.
Individuals, College areas and work tasks have been risk assessed and appropriate mitigation measures are in place.
Full consultation has taken place.
The Principal, supported by the Executive Leadership Team and the College Board, authorises the action.